fauxidermy freaks me out.
Living in Texas, you think I'd be used to all the stuffed trophy animals hanging on my friends walls. Okay, so not
my friends
. But I've definitely been to houses of people I "know" that display these as fashionable wall art. There are entire stores that display coordinating furniture to go with their stuffed-dead-glass-eye-animal-heads. Ugh, sick out. And surprising, if you google "taxidermy blogs" you find very interesting things like... a drunk raccoon. I mean, who wouldn't want this in their home? Such a statement piece.
Or, if you prefer to purchase someone else's road kill to decorate with... you can shop
here
, and show off to your friends with special decor like... a canoeing squirrel (only $195), a motorcycle riding squirrel ($295), or for a whopping $795 you can get a paddlin' beaver. Apparently squirrels and canoes are popular decor these days. Poor squirrels, they draw the short straw every time.
Okay, so obviously none of these items are good for your children's rooms. But, we do have to give some recognition to this new trend - "
trend"
, really Katy? Ugh, let's hope not. This is the thing though.... I saw these heads hanging at my favorite store a few weeks ago. A lady was oooohing and aahhhhing over them for her husband because I guess he had a fascination with animal heads in their home. (Yes, that is common in Texas, and NO, we don't do it.) But I have to admit, I did think they would be cute in a little boy's room or gameroom if done right!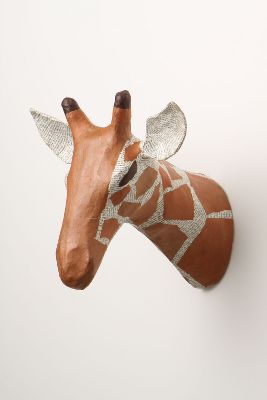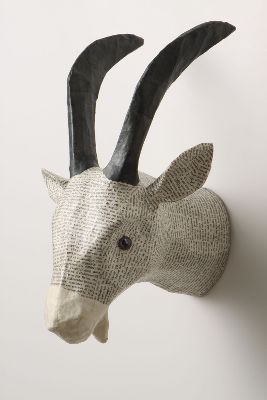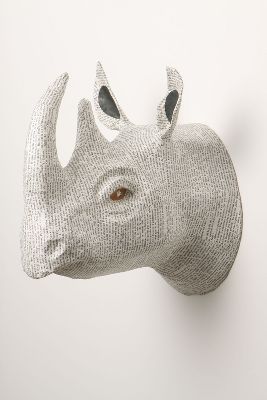 Each animal head is $68 and available
HERE
 at Anthropologie.com. I took one off and studied it, it was paper mache-d (so it had an artsy homemade feel), and definitely no glass eye balls. What do you think? Is this baby room material? Or perhaps more kids playroom... when they are old enough to know that a animal head (like the see in the Zoo) isn't staring them in the face each morning. And for you more "modern" nursery design peeps... well, don't fret - you can get a white resin assortment of animal heads at
Z Gallery
for around $150.
---
1 comment
---
---