Indoor Playhouses and Swings.
Sorry I've been MIA. We spent last week at the New York Gift Market (NYIGF) and I just got back to the office! Market was a huge success, one of our best NY markets yet! Ugh, no matter how hard I try, it STILL takes two days to make up for every one day I miss. But I'm back, and we don't leave for our next market until October - that one is my favorite, vegas... baby. But next week I'll be back to my daily blogging - I cross my blogger-heart. I found so many cool new products in New York, here's a few I think my kiddos would go ga-ga over! For the creative-kiddos, they can decorate their own playhouse, castle, or pirate ship with these super cool cardboard clubhouses! If you want or NEED one for yourself! Give 
Nursery Couture 
a shout - they'd love to order one for you! 210-494-2627
I'm absolutely ordering this for my son's new room. I've been daydreaming about him quietly reading books in it, softly swinging side to side... course, the reality is that it will probably result in a few holes in my wall from him pushing off to see how high he can swing!
And if my daughter gets too jealous... well, they make one for her too!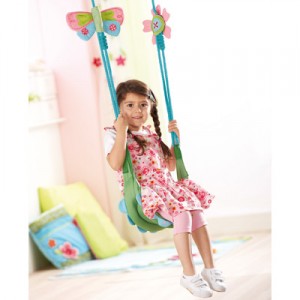 Now, if I could just find the room in the house to put them....
---
2 comments
---
---