The perfect pink and brown nursery.
That's where it all started ladies (and gentlemen)... with pink and brown. Okay, blue and brown too! Waaaaay back in the day, when the color chocolate brown was no where to be found in the nursery - we re-defined the baby room rules, and said good-bye to pastels, and hello to chocolate brown... and introduced a little collection known as "The Classics". Little did we know that the color combination would consume the entire baby industry. So here we are, seven years later... and still... the Classic Collection reins as one of our best selling bedding & accessory collections. Apparently it's working out pretty well for other manufacturers too! Here's a few of my favorite finds in nursery decor that would coordinate just perfectly with our Classic Collection Crib  and Big Kid Bedding. Let's start with the Taylor... plush thick slip-covered bumpers... stripes, polk-dats... three shades of pink and brown perfection. Oh, and a steal at $450 for a 4 piece set.
Pottery Barn Kids has a polka dot rug ($269 for the 5x8 - a perfect size to lay diagonally across the floor).
Or, you can purchase this super-soft shaggy raggy rug at
RosenberryRooms.com
 in a variety of colors!
Wall art? Hmmm... my favs are... "
New Song Wall Art
" $155 at NurseryCouture.com or "
Miss Priss
" also available at NurseryCouture.com
Add some "personalization" with a
monogrammed lamp shade
!
OR! Are you looking for
blue & brown bedding
? Our
Cade Bedding Set
, where all the bedding originated - I was actually pregnant with my son, and couldn't find bedding I liked (imagine that) so designed the Cade set for my son... Cade!
These vintage synonym flashcards describe the little man in the making! $39 each available at
RHbabyandchild.com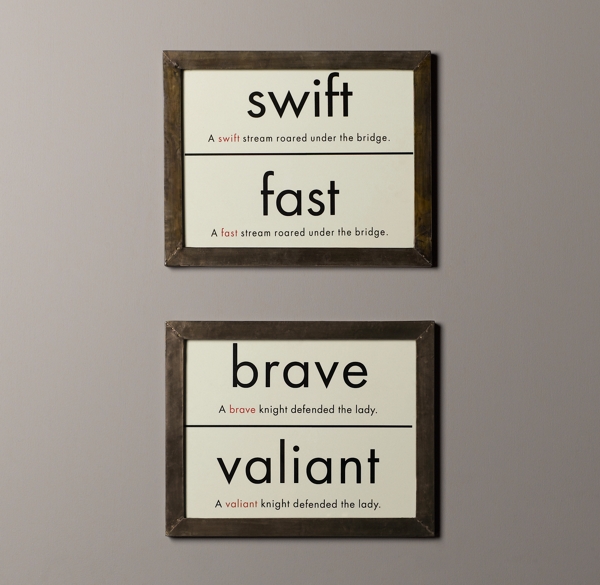 Or, spell it out, with these
blue & brown hanging letters
from NurseryCouture.com! Or these
letter blocks in blue
from RosenberryRooms.com...
Polkamania brown & white 
Shaggy Raggy Rug by The Rug Market...
And to celebrate all the success that our
Classic Collection
has had over the years, we're having a little SALE this weekend! So hurry and grab your favorites, because the sale ends Sunday at midnight!
---